Aug 11
catalin pobegaClimbing in Alps zmutt, zmutt Matterhorn, zmutt ridge, zmutt topo No Comments
Between 8-9 Sept 2009, together with Silvia Murgescu we have climbed Matterhorn North-West ridge, aka "Zmutt", starting from Schonbiel hut.  For descend, we've rappelled down the Hornli ridge.
Our climb up to Matterhorn summit (4478m) via Zmutt took us 24 hours, as we encountered difficulties in finding the proper route in the lower part (between Zmutt glacier and the actual ridge). So, I strongly recommend to start climbing Zmutt from Hornli hut and not from Schonbiel hut! It requires a long traverse on ice to get into the ridge, but it saves a lot of time in terms of route finding.
Zmutt was our desired climb for the summer of 2009. As we had a 2 weeks vacation, our plan was to start by climbing Eiger via  Mitelegi ridge, then climb Mont Blanc via  3 Monts  (to get acclimatized) and then… the most wanted Zmutt. And that's what we did.
Climbing Zmutt:
On 7 Sept 2009, we left our tent in Zermatt camping and started the approach to Schonbiel hut (2694m). This was a 4 hours easy trekking route. We took food and gas with us, as we were at the end of vacation and didn't have too much money to spend in a Swiss hut.
We asked the lady warden from Schonbiel hut about the route condition and we found that 3 weeks ago it was climbed by another team starting from Schonbiel. 
The rest of the day we kept hydrating and sleeping preparing for the next day climb: 1940m to the top of Matterhorn and then descend via Hornli ridge and come back to the hut to recover our big backpacks.
Topo for Zmutt ridge you can see below. The line in red is what you have to climb if you start from Schonbiel to get into the ridge. See also the descriptions:
In the morning of 8 Sept 2009 we left Schonbiel hut at 2 am, descended right on the clear path to Zmutt Glacier. Here we had some problems in finding our way up trough dozens of crevasses at the light of our torches. Topo says we had to follow the watercourse in the left and access the ridge from that point. But  as we tried to find a better place where to pass the bergschrund, we found ourselves a little bit too high from the watercourse. Anyway, we've decided to climb the wall diagonally left to get into the watercourse. The climb was horrible, with all the rock disintegrating around us. We've switched to climbing shoes and climbed a chimney trying to put some protections for the moral. It was dangerous and it took us a lot of time.
We've got up into the ridge only at noon.  10 hours from the hut to this point… it was clear to us we will not make it in time to the top and down in the same day. 
We followed the ridge by climbing around and upon a series of teeth with one rappel necessary. We found some pegs here and one rope that was abandoned.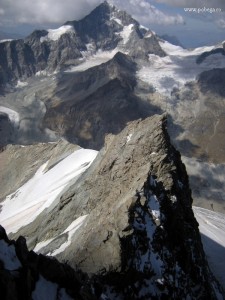 The surrounding was excellent. We could admire  Dent Blanche in the background and the Lion ridge on our right.  
Here we are at the Carrel Gallery (by which Carrel traversed from the Italian ridge). From this point, the batteries from our little camera went off.  As I left my DSLR at the Schonbiel hut, from here on, we don't have any more pictures.
The loose rocks up in the Carrel Gallery made us switch again to climbing shoes. We've reached Matterhorn summit at 2.00 am, after 24 hours of effort. We've put all our close on and starting the descend via Hornli ridge.  At some point we sow many torches coming up the Hornli and we thought maybe the rescue team think we need help and come for us.  (The batteries from Silvia's torch were exhausted and the torch was starting to give light clipping signals – we considered this was the reason that made them coming).
We felt guilty and didn't know how to make them stop. At some point, we realized they are not rescue teams, but climbing parties up the Hornli ridge. They were all like running a marathon, climbing very fast. The first team didn't have time even to respond to our <Hello!>.  Why are they so desperate? Himmm…
When we got to Solvey refuge (8:30 am), we stopped to warm in the sun.  A mountain guide gave me something to drink as my lips were dry. Silvia decided to descend faster and get quicker to Hornli hut for some drinking water. At 11 a clock we took a nap in the front of Hornli hut. At 16.00 we leave to Schonbiel hut, where we get in another 4 hours.
The warden from Schonbiel asked us about our health, as she watched us up on Zmutt trough the binocular in the previous day.
See more about this on Silvia's site, here.